The three main blocks – NDA, MGB / UPA and LJP – have announced their candidates for the 71 seats which go to polls on October 28.
JD(U) is contesting on 35, BJP on 29, HAM on 6 and VIP on 1 seat from NDA quota.
RJD is contesting on 42, Congress on 21 and CPI(ML) on 8 seats from MGB / UPA quota.
Contests in Phase 1

RJD fancies its chances against JD(U) due to anti-incumbency
In line with its vote blocks NDA has given maximum tickets to General category / upper caste candidates (37%) while MGB / UPA to Yadav candidates (32%).
Caste Wise Split of NDA & MGB Candidates

MBCs and Muslims under-represented in both.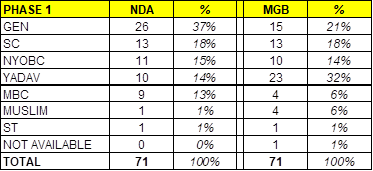 Caste Matrix Phase 1

Gen vs Gen: 12 seats; SC vs SC: 13 seats; Gen vs Yadav: 7 seats
Yadav vs Yadav: 6 seats; MBC vs Yadav: 6 seats

Seat Wise Candidate List with Caste

BJP, LJP, INC have allotted highest tickets to upper caste candidates